You need your mates at the Big Day Out, and your mates need you. And so it was that a little texting, but mostly some spooky force of attraction, drew us together in the crowd, until there were a dozen of us, friends, happy as hell to be there with each other, sharing an understanding. We were going to see the Stooges.
The first two Stooges albums mean a lot to some of us. They were archetypal. The songs were iconic, but primitive enough that you could aspire to play them. We saw Iggy Pop as the progenitor, perhaps even the prophet, of punk rock. People who didn't get the Stooges probably weren't People Like Us.
I saw Iggy last time he came and played the Auckland Town Hall. Unlike a lot of people, I didn't really like it. Call me a purist, but I thought it lacked authenticity; too much LA-session-guy guitaring. The Stooges show at the Big Day Out, on the other hand, was right. It was funny and exciting and weirdly moving. Iggy looked magical under the lights: a golden body in skin-tight blue jeans.
Images. My darling, fortysomething and mother of two, pogoing like the teenager I met all those years ago. Our friend Richie, who is a major Stooges fan, pretty much going nuts for an hour. All of us, and everyone around us, just having a party.
I watched a little of the White Stripes from the stand after that, and it was okay, but (especially after Iggy) it seemed a bit serious. The first time I saw the White Stripes, at the King's Arms, they kicked off with 'You're Pretty Good Looking'. I sort of miss that White Stripes.
My darling got a (bad) coffee and we walked around the site for a while, just taking in the late-in-the-piece spectacle. We parted company and I ran into the rest of the crew at 2ManyDJs, who finished off in the Boiler Room. The Belgians served up whacking great slabs of cheese, but they did it really well. It's not hard to see why the mash-up format is so popular. They take a song that's already in your head and mess with it and probably slam it together with some other iconic tune. And then they crank it along with all the most beloved devices of modern dance music. I ultimately prefer my dance music with house grooves and girly vocals, but this was bloody good fun (and way better than the Chemical Brothers last year). I Should Be Doing My Masters blog certainly got into it:
2 Many Djs: Oh my fucking lord! That was one of the most amazing things I've ever heard. They mixed The Franz Ferdinand into The Prodigy. AC/DC into Madonna. They played Pump Up the freaking Jam! Pump up the Jam! Who has the balls to play that and get away with it! It sounds trite but it is dance music for people who listen to rock music. Awesome, awesome, awesome.
Surprise of the day? Franz Ferdinand. I'm not really a fan, but I thought they were mostly pretty good and occasionally ('Take Me Out') really brilliant. Shihad were everything you'd want them to be - they just own that big stage: everybody Singalongapacifier.
DJ James Murphy's Boiler Room set was very cool, although at the time the tent was very, very hot. The Go! Team didn't quite work for me, but I was in the midst of a 45-minute spell (after James Murphy) when my back, my ankle and my head hurt, so that may have been me rather than them. I didn't see all of Shapeshifter but they were a bit of a revelation: liked the new MC and loved the version on 'Murder She Wrote'. Complaint? The Stooges could, in my humble opinion, have been quite a lot louder.
The more indie the bill at the Big Day Out, the smaller and nicer the crowd. This was a very indie bill, attended by a pathologically sensible crowd of (we guessed) 30,000. Most of them were trollied in one way or another (I always get the impression that for a good many people, it's the one day in the year they take ecstasy), but you'd look for a long time to find any inappropriate behaviour. The cops were even more relaxed than usual, and there were only 13 arrests. Only three people went to hospital, and that was for dislocated knees and elbows, not BZP overdoses.
Maximum respect: our 14 year-old friend Jessie, who did very well on her debut festival experience, and her dad, who was admirably sober for the duration. Special thanks to David Slack for his kind hospitality, and to Andy M for being my longtime partner in crime. As I said on the night: dude, you and I are serious motherfuckers. (Although, I will grant you, that made more sense at the time than it does in the sober light of day.)
I am not one of life's natural photographers, and I didn't take as many pictures with my phone as I'd meant to, and none until dark, but here's Andy: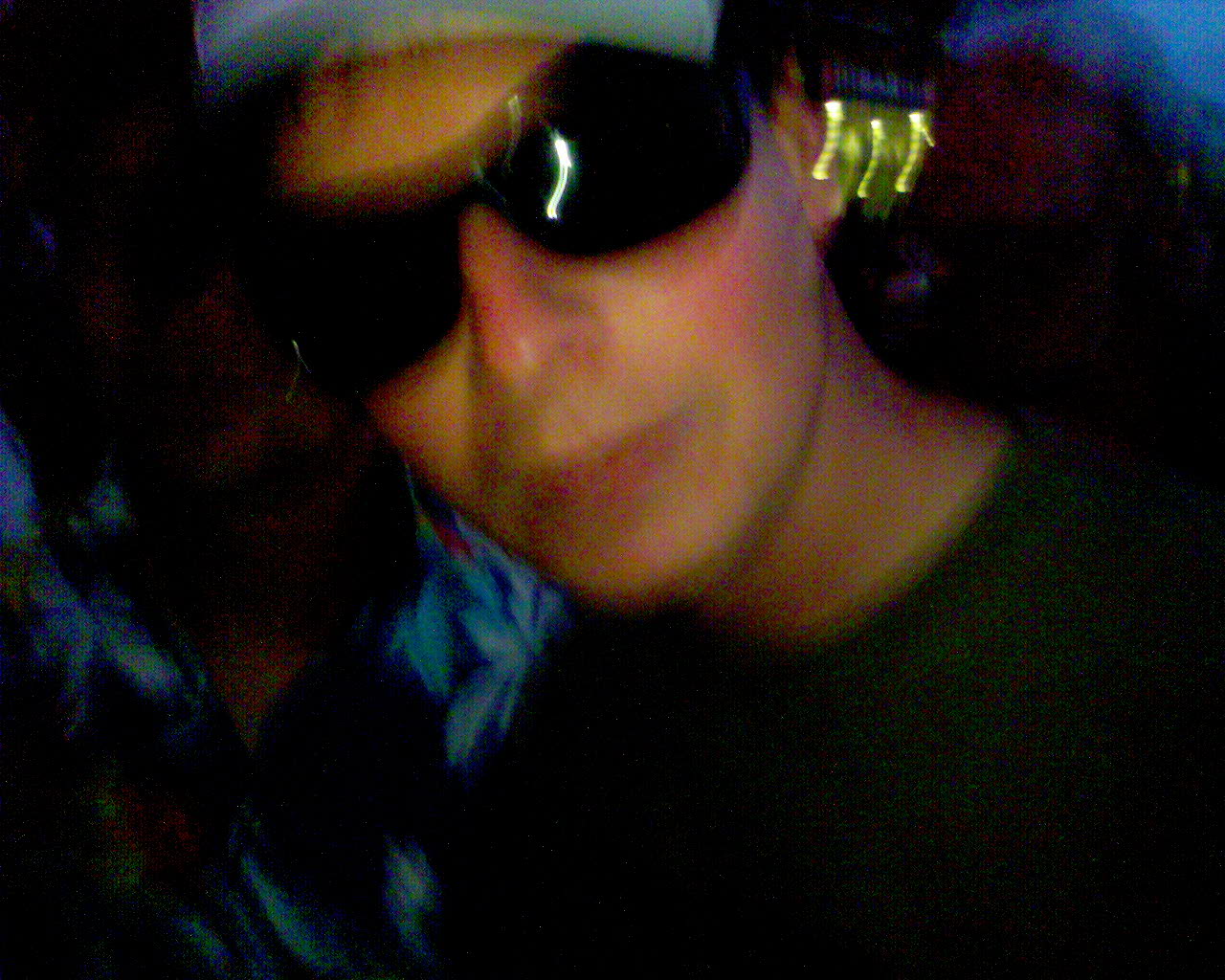 And some babe in the crowd at the Stooges …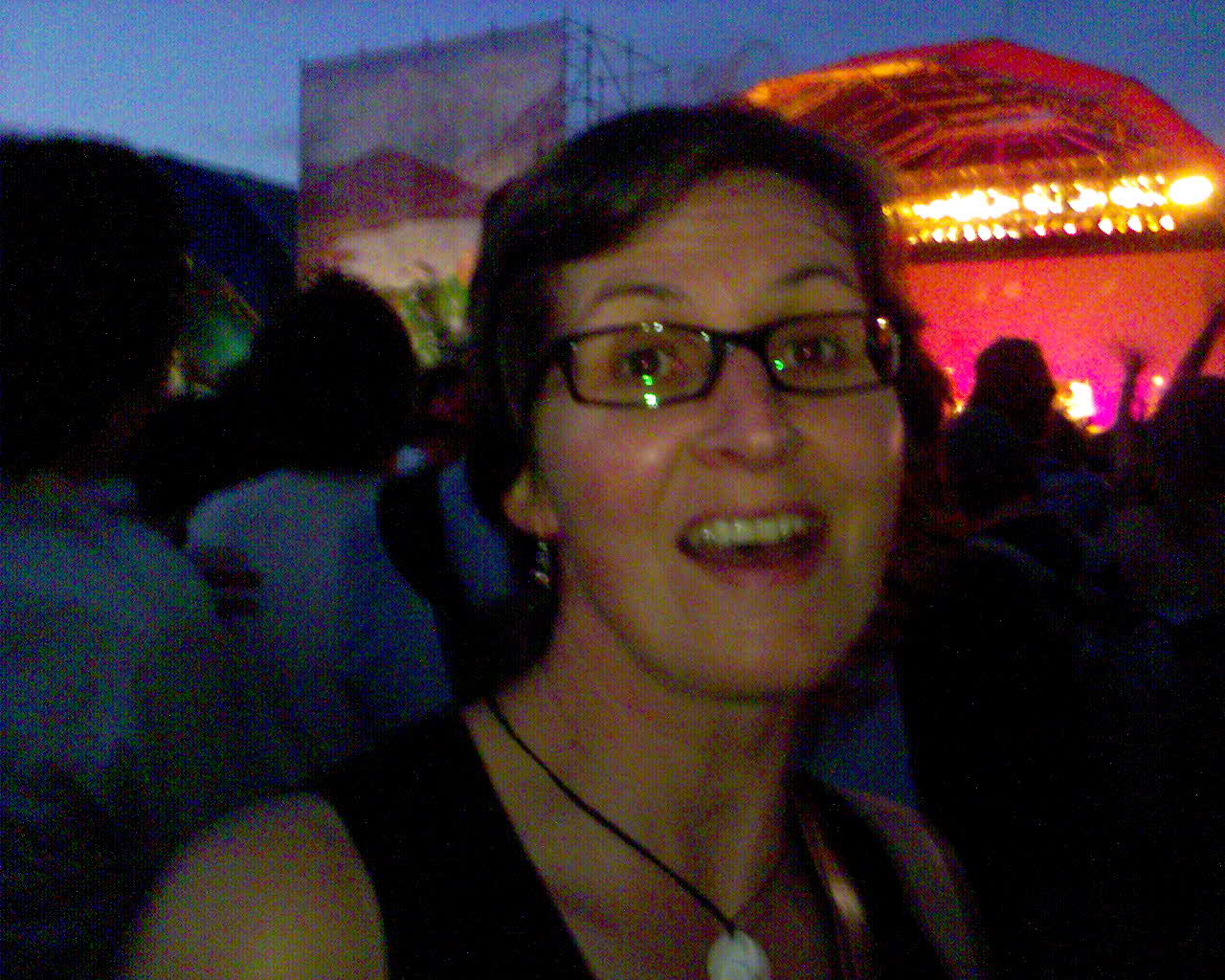 And the Boiler Room, right at the end of the night: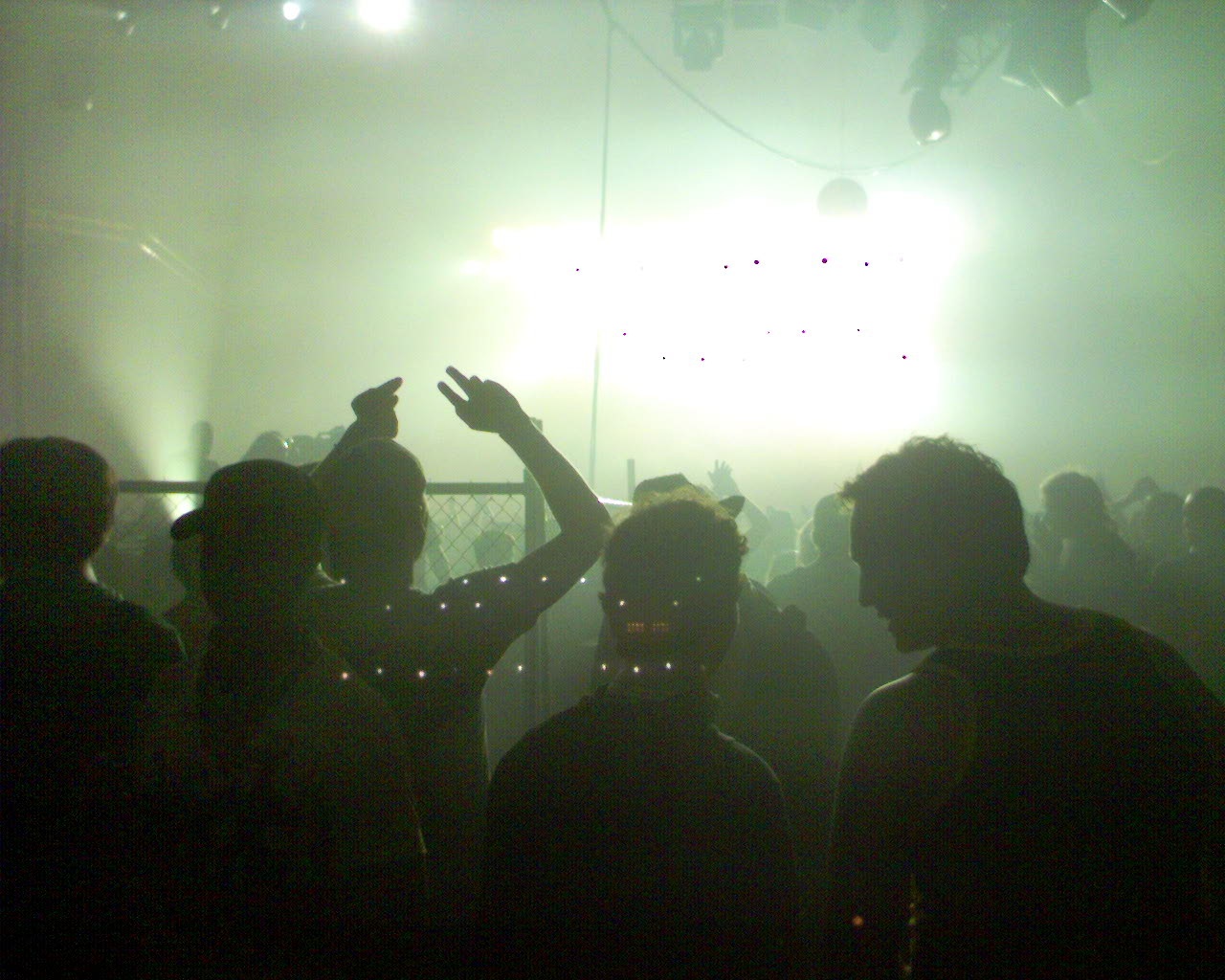 There are a few more in the gallery.
Coverage? I liked Alan Perrott's wry story on the demographics of Big Day Out attendance. It's not really about age, although there is a certain threshold of physical endurance, but attitude. I think the reason that the punters look forward to the Big Day Out is that it's a chance to rub sweaty shoulders with a lot of People Like Us. More or less.
Paul McKessar was described in a couple of reports as a "police spokesperson". Which you may find amusing if you know Paul. And the NZPA dispatch said "a 35,000-strong crowd were unrelenting in their energy and screaming yesterday at the marathon 12-hour Big Day Out music event at Auckland's Ericsson Stadium." Unrelenting in their energy and screaming? Was this translated from another language?
But the best stuff, really, is in people's blogs.
Peter McLennan at DubDotDash has an informed and extensive review, and makes a good point about the access point to the alternative stages. It was the only real choke point in the whole stadium, and when it came time for the Fat Freddy's crowd to pour in, it needed someone managing it.
Plog reported extensively, and noted the guy - there's always one - who ventures into the mosh pit and then decides he wants personal space:
But to him I say this. What the hell are you doing in a fucking mosh pit surrounded by thousands of sweaty people all bounding and moshing to the music and having a fucking good time if you want to "groove to the music"?

Sorta Beautiful took some pictures, and Conscious Effort has a report and a video clip from Concord Dawn's set in the Boiler Room (which may look to the uninitiated like one of the levels of Hell).

Han nah at Let's Walk Slowly made me think I should've caught a little Brunettes big band action.

Simone's Welt said: "Bei Bilderbuchwetter und ner Superatmosphaere haben wir Iggy and the Stooges, Franz Ferdinand, Kings of Leon, The White Stripes, Wolfmother, Henry Rollins und, und, und gesehen." Yeah, baby!

Ever wondered what's going on with the Goths at the BDO? Insanity Parade reports in black.

Or wondered about the people who go on the fairground rides? Alex reports.

Cia spent a whole hour in the silent disco.

Alex at oppositeoffair pushed on and went to a funny-sounding gig in someone's flat the next night.

Clarity at The Home of Drunken Fences moshed for Wolfmother.

Of course there's always going to be someone making a road trip from Whakatane (where's the Naki?!). "We bought 8 boxes of 12," reports Dee Bizaird. "6 tui's and 2 export gold for me … 4 and a half hours after we left whakaz we finally got to nilesh's sisters in Manukau!!!"

Out of Her Head She Sang said "Fuck yeah i got to crowd surf when kings of leon were playing woohoo.thanx to the older guy behind me who got me up there and fukn saved my life lol." Let's hear it for older guys …

Susan of Susan's Space sorted out Lovi, the Big Day Out virgin: "It was after this that lovi had the issue of her lifetime about whether she wanted a pottle of chips or not…"

Foxiesgirl at My Overactive Imagination liked Mudvayne best of all: "Literally the best (non-sexual) half hour of my life,
& my throat is still sore from screaming."

Sally and Kt from Yorkshire had it large on the holiday of a lifetime. Unfortunately, the next day Sally got sucked by a leech. Drew blood and everything.

Cute as a Button had the best day of her life: "Even if when I got home I had insomnia because I took one too many party pills and I didn't get to watch the whole Fat Freddy's gig or Rhombus."

Hay Ray represented Avondale, but needs to work a bit harder on not being a dick. More time on Operation Dance Like No One's Watching, pal, less on Obnoxiously Pushy and Selfish Guy.

And meanwhile, your favourite right-wing bloggers had a "Friday night free-for-all" ("Go over to Silent Running tonight for all the fun.") doing, well, what they usually do …

And finally, Mon Mon missed the event but turned up at the airport the next day and got a really sweet picture of herself with Iggy. "He was so lovely," she says.

Of course he was.