(In case you're interested, since my last post I have joined Twitter, followed about 100 people, been followed by approximately the same, got really, really bored and left. Well, by 'left' I mean 'stopped' because I don't want to lose my login to someone else for the reasons I gave in the last post.)
I had to work on Good Friday. I'm not one of those Christian cult-members, so it didn't bother me other than getting calls from friends who were clearly entertaining themselves with alcohol, but as soon as I was done, we jumped in the car and headed up north. Leaving late was a blessing, we avoided the 18km traffic jam caused by a motorcycle accident, and made the four hour journey in four hours. When there's no traffic, that new toll road is a doozy. As I guess it should be, for the Most Expensive Piece of Road Ever.
Easter tends to be like Labour weekend, doesn't it? Rain 'n' all that. And despite good forecasts, Friday wasn't looking like bucking the trend. But Saturday morning we got up and were welcomed by blue skies.
My aunt and uncle have a little bach at Tokerau Beach, which is a bit further north than Mangonui of the famous fish 'n' chips, a bit further north than Taipa, Coopers Beach, Cable Bay. North east from Kaitaia. Oh look, here.
Anyway, the bach isn't much, as baches shouldn't be, but it's a beautiful spot. Although it's now renamed 'Death Beach' because as we went for a walk (it's a very long beach, essentially offering the left-hand-frame for Doubtless Bay) we first stumbled across dozens of rotting snapper frames, which had clearly been filleted not very far out at sea, and quickly washed up. Then we almost trod on an Ex-Penguin. Then a large log covered in flies turned out to be a Former Seal. And finally (after quite a few more fish frames of varying shapes, sizes and species), a Used Stingray. Not quite the romantic morning beach stroll we were aiming for.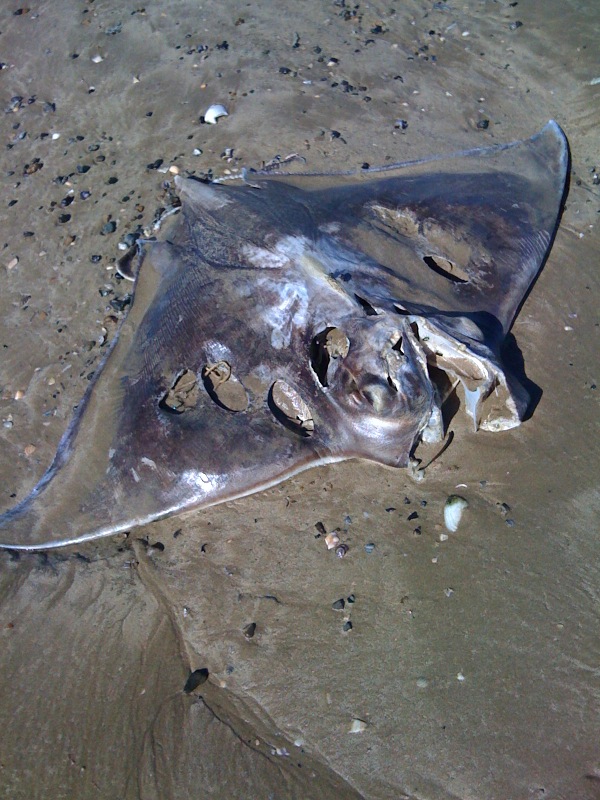 Saturday afternoon we drove further north, to visit friends in a gorgeous secluded spot called Henderson Bay (google it yourself if you're keen). Beautiful bush, bird life, stunning Martian like red-crusted sand dunes, and if I'd planned ahead, I reckon the diving would have been quite bountiful too. The water might have been a bit colder than at the height of summer, but it was so clear and inviting that I could resist having my first ever Easter swim in living memory. Later we fished unsuccessful from the rocks, rolled down sand-dunes and played table-tennis under the surprisingly scorching autumn sun.
I love being able to visit different parts of the country, and every time I make the effort I realise I don't do it enough. Fortunately we live in a country where many of us have the sort of access I'm talking about. I'm not rich and nor are my family; I don't own any land, but I have aunties and uncles who have a property here, an old holiday home there, and so do my friends. Even if you don't know anyone, so much of our country is beautiful and unspoilt and an easy car ride away, that you can go camping for a few dollars a night on DOC land, or hire a bach off-season at very reasonable rates.
That's all I have to say today: I heart Aotearoa, and Twitter is a waste of time – I love you Dubber, but I don't care what's happening at your conference – and I never, ever, ever will care if anyone I know (other than someone who is driving a vehicle I'm in at the time) is feeling sleepy and thinking of heading to bed. Oh, and despite what the unions and the cult-member-Christians say, it is a pain in the arse not being able to buy booze on Good Friday when you're up North and you want to get on it.
If you feel that reading this blog has been a waste of time, here's a link to some guys who have written a song about Samantha Hayes. She's going to be impossible after this.
And here's a link to an Australian musical comedian called Tim Minchin, who I saw at the Auckland Festival a wee while back and still think is awesomely funny and talented and intelligent and all those things good comedians should be. If you like this one it's worth trawling through the others on offer.
See those of you in Auckland at the drinks tomorrow.