Well, I'm back.
But let's just pretend I'm not for a bit, while I cast my mind back and recount my final days in the dreaming spires.
After finishing my paper (more or less, there's the small matter of a conclusion that needs writing), I encouraged a friend to do what most of my London pals had been promising for three months, to leave town and see the country. I'm glad I did, because it turned out I'd seen bugger all myself. There's nothing to help you see your own neighbourhood like showing someone else around, and while I still held a valid Oxford student ID, it was as accessible as it's ever going to be.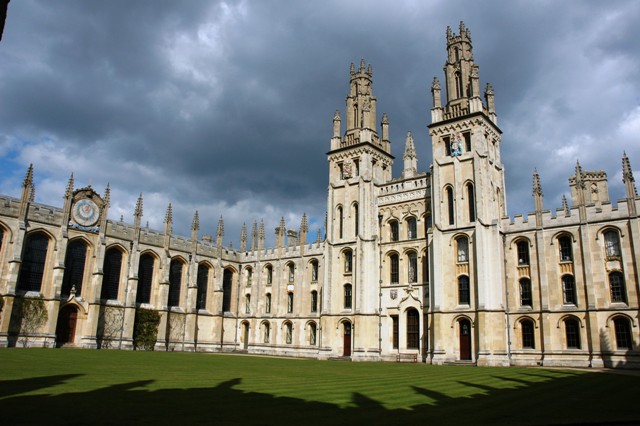 The student-free All Soul's College
So I did the rounds. University College, New College, Jesus College, H College, Christ College, Magdalene College, All Souls' College. For the most part they're very similar, architecture-wise, differing in scale and accoutrements, if that's the right term to use – you know, gargoyles 'n' shit. Each consists of two immaculately kempt quadrangular lawns, surrounded by the student's rooms, which make up the castle-like walls.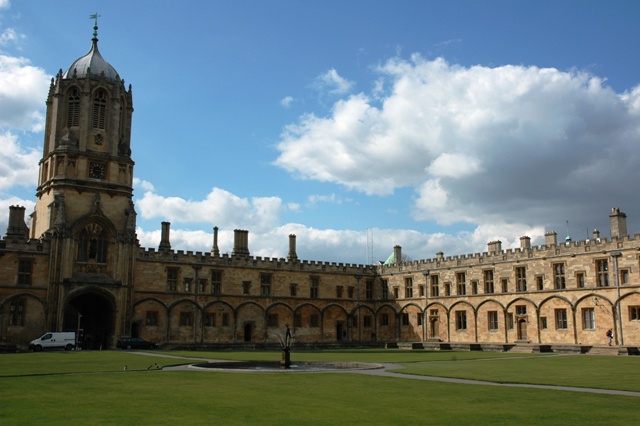 Christ College quad
Each has a dining hall, of varying magnitude (Christ College's is where they film Harry Potter's Hogwart's dining hall scenes), most have a chapel (almost all of which have a certain 'wow' factor) and an impressive library of leather-bound tomes.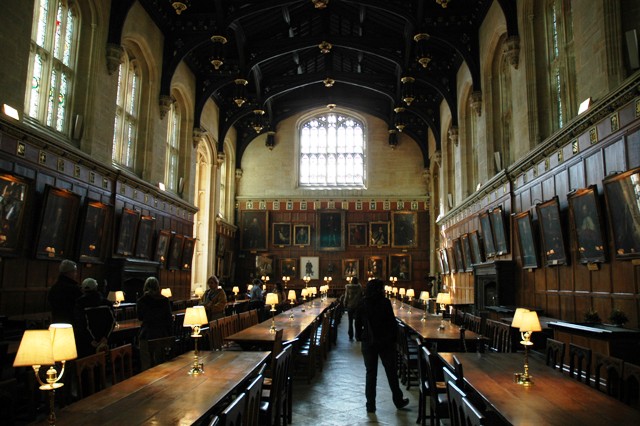 Christ College/Hogwarts Dining Hall
Spring had achieved its past participle, and the daffodils and cherry blossoms really had transformed the countryside. Previously barren, muddy fields had finally earned the name 'meadows'. Everything suddenly resembled a scene from a jigsaw puzzle.

This photo looks heaps like a jigsaw puzzle I had when I was little
Touring duty out of the way, it was time to pack my life into two ill-equipped suitcases, or when I was finished, two ill-equipped suitcases, a backpack with camera bag tied on one side, tripod on the other, a Duty Free Australia bag stuffed with dirty clothes, an Adidas bag full of books and a Sainsbury's bag with records and random papers that wouldn't fit in any of the preceding receptacles. Thus laden – and looking as though I was hunting for a cardboard box in which to sleep– I made my way to the bus stop, and departed Oxford.
It wasn't until I was 20 miles out of town and had stopped sweating from the effort that I realised I hadn't actually said goodbye to my adopted home. Not that I was expecting much of a response.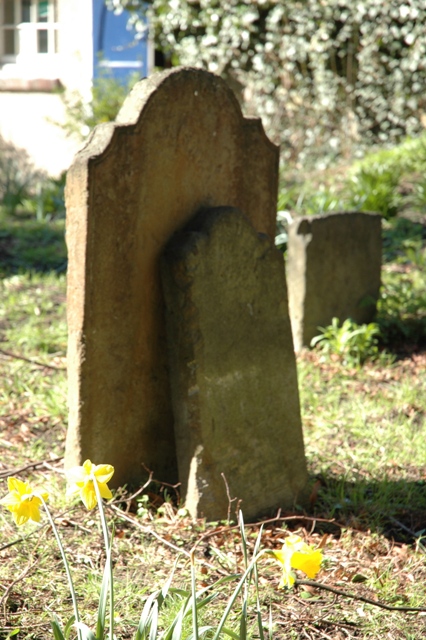 Just a nice picture of some graves near my place in Oxford
I made up for it by seeing off London in fantastic fashion – the first night saw me standing outside a certain gentleman's club for half an hour at 6am, trying to convince a good friend that the stripper really wasn't coming out to meet him; the second ended far too soon with my airport shuttle turning up at 9am. At least there was no doubt I'd said goodbye.
Three months of serious academic pursuit and social madness in the UK isn't achieved without the help, hospitality and setting of bad examples by any number of people. The former have been thanked in my paper, but for the good times I'd like to thank the following people:
Graeme & Frith, Dave & Andy for your couches and love; Charlotte, Jason & Renee, Angus & Rita, Rolf & Sarah, Steve, Clare, Nicole, Kate & Anna, Arch, Emma, Sally, Tanya, Rebecca D and late arrival Hugh for accompanying me on my Good Times™.
And I never once drank warm beer.