I went to the hikoi yesterday.
I don't have much to report really. I went down there lugging a video camera for my TV work, a mini-disc recorder for the radio show (there will be a piece on the hikoi this weekend), and my trusty Nikon just for fun – and for the blog of course.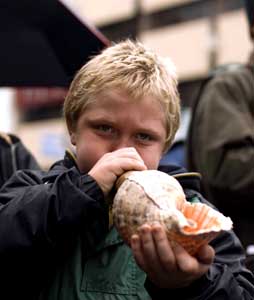 Everyone I spoke to was friendly and happy to talk to me; I interviewed everyone from old white Remuera ladies and hippie types to police, patched gang members and veteran activists. Each gave me the time of day.
So I was surprised to turn on National Radio (sorry, radionewzealandnationalsoundslikeus) yesterday afternoon and hear one of the panellists say the following:
"Anyone who was there or had a look at it from a spectator point of view as I did would be a little bit terrified, because it looked to me more like a power grab, because it was certainly an in-your-face type march, these wasn't [sic] peaceful citizens, these were threatening people… and there were plenty of flags there but no New Zealand flags.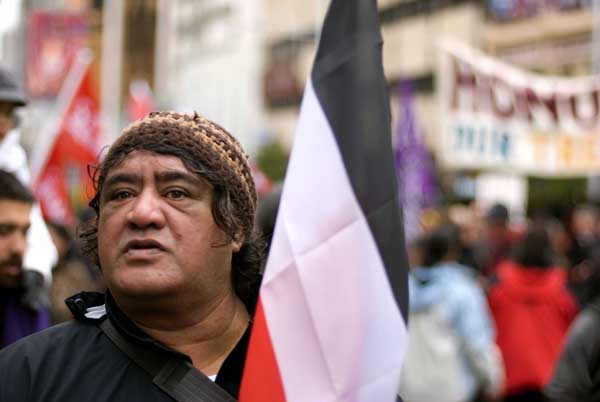 No surprise perhaps to find out that the panellist in question was NBR's Nevil Gibson, who I haven't heard much from before, but clearly isn't exactly breaking the mould of NBR's grumpy old white men. Having just been there, I couldn't understand how his experience could have been so different from mine.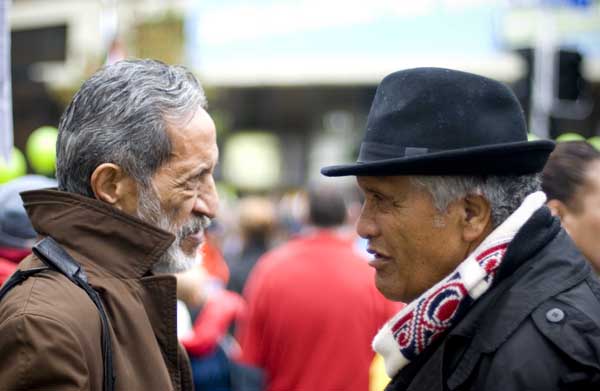 By "threatening people", did he mean Maori? Did he mean Maori performing haka as they walked? By "these wasn't peaceful citizens", did he mean the sum total of zero people who were arrested? Or the people the police were referring to when they told me "no, we've had no problems, everyone's [all 7000 of them] been very well behaved."
And why did he expect the protestors to be waving the New Zealand flag?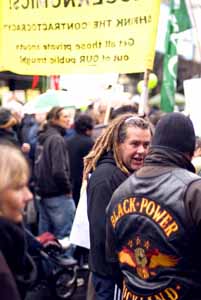 Nevil Gibson then went on to argue the merits of global warming. I found another radio station to listen to and everyone, apart from grumpy old Nevil, was happy.